June 2, 2017 — By Marirose Krall
Got a Light?
As you might expect, we see all kinds of home décor trends here at Design NJ—some are great, others less so. But one trend we're thrilled to witness is the increasing sophistication of lighting options. We've come across so many that are inventive, avant garde, and just really, really cool. Using a staggering variety of materials in an infinite number of creative shapes and styles, lighting design has never been more exciting.
Take a peek at these show-stopping chandeliers; they'll light up your world.

Cosmic swirls create artwork in the air. Nebula from Bodner Chandelier.
This fixture is large and bulbous, yet maintains a light and airy look thanks to its net-like structure. Mesh from Luceplan.

Of course, a solid block of light works too and makes a dramatic statement. (All the more so when it flaunts its curves!) Refrax from Schonbek.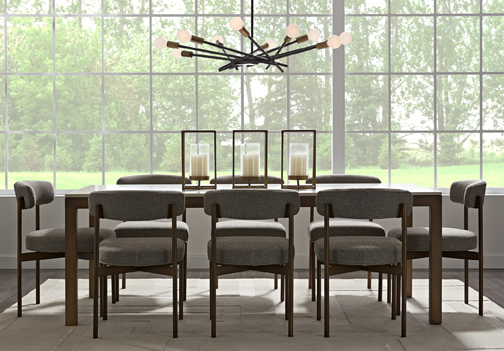 The linear look prevails in this space. Kensey chandelier from Mitchell Gold + Bob Williams.
A fixture can mimic the shapes in the furnishings… Sonata from Kichler Lighting.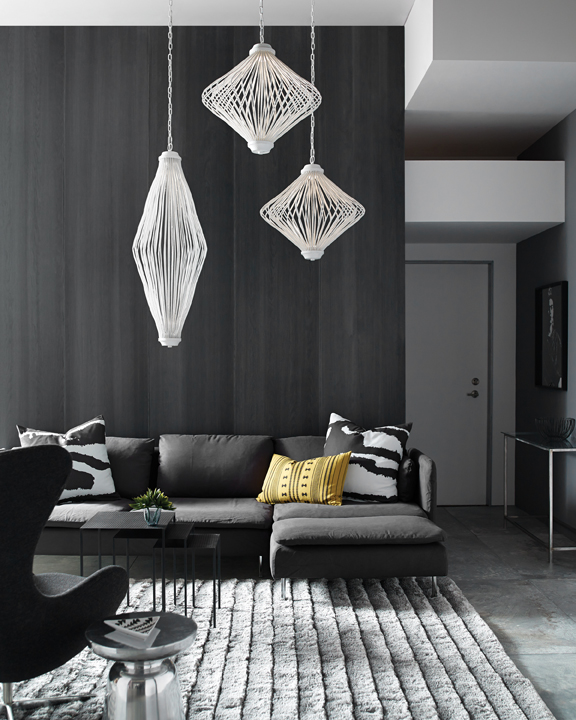 …or not. Kellen Collection from Feiss.
A fixture can coordinate with the colors in the room… Monceau from Fine Art Lamps.
…or not. Ivy Suspension Lamp from Creative Mary.
Use lighting to underscore a theme… Oberlin fixture from Feiss.
…or, instead, create a stylish contrast. Winter Solstice from The Minka Group.