From the February/March 2019 Issue
Windows of Opportunity – Metropolitan Window Fashions
|
SPONSORED CONTENT
Metropolitan Window Fashions has been a force in the industry for 85 years
It's a timeless story of grit, perseverance and overcoming long odds. In 1920 Philip Heyman immigrated to America and took a job with two uncles who owned Heyman Bros. Furniture store in Jersey City. After working as a salesman and learning the retail trade for 14 years, he saved enough money to open his own shop, Chain Decorators, on Somerset Street in Plainfield with his wife, Ida.
The shop quickly became a family affair and, in 1956, Philip's son, Jay Heyman, joined the business. In 1961 the company opened a new store called Highway Mill End Shop, which later became Fabric Land. In 1990 Jay's son, Bruce Heyman, came on board.
In the years since, the company, now called Metropolitan Window Fashions, has opened two more showrooms, one in Paramus and another on the Upper West Side of Manhattan. The iconic North Plainfield store, at that location for over 50 years, recently moved two miles down the road to 270 US Highway 22 in Green Brook. This location is known as Metropolitan Window Fashions at Fabricland. Bruce, now the owner, describes this newest location: "Under one roof, we have two businesses. The new showroom has an impressive custom drapery display and the largest Hunter Douglas Gallery in New Jersey. The Fabricland section of the store sells dress, quilt, drapery and upholstery fabrics. We also sell sewing machines and teach sewing classes on site."
That's a wide range of endeavors; but the company — which provides services in 16 counties in northern and central New Jersey, southern New York state and Manhattan — also offers custom, ready-made and DIY window fashions and free in-home decorating services for draperies, shades, blinds, shutters and upholstery. It's the largest independent retailer of custom window fashions in metropolitan New York. The company's showrooms are staffed with talented decorators and installers with decades of experience.
Metropolitan Window Fashions remains very much a family business. "My wife, Margaret, runs our payroll department, which is very complex," Bruce notes. "We have three locations, 50 employees (all with unique schedules), hourly wages, salaries, commissions, teachers and independent contractors." Bruce's older son, Nate, works as a manager while he finishes his teaching degree at Kean University. His younger son, Ben, works at a national retailer, but helps out as needed. "Our daughter, Libby, works for a PR firm in New York City, but is always on call as her dad's personal publicist — making sure I don't say the wrong thing," Bruce adds.
What's the secret to creating a successful company that spans generations? Bruce believes it takes a certain amount of daring, plus, of course, a willingness to work hard.
"I am still amazed that my grandfather started a decorating business in the height of the Great Depression. To top it all off, he named it Chain Decorators, for the 'chain' of stores he planned to open — which he did, with locations in Plainfield, Westfield and Somerville."
The next generation took chances that paid off as well. "My parents, Jay and Gertrude Heyman, faced their share of obstacles," Bruce says. "They owned a large fabric store in the 1970s, at a time when women stopped making clothes for their families and went to work outside of the home. Sewing was more of a craft and hobby and less of a necessity. They kept the business vital through brilliant merchandising and marketing."
It's not just calculated risks that have led to success for Metropolitan Window Fashions; it's also a commitment to excellence that has remained constant over the years. "We still believe in quality products at fair prices," Bruce says. "We stand behind what we sell; it's bad business to sell inferior merchandise just to save a few dollars."
The company also believes in working with clients the "old fashioned" way: with human-to-human interaction. "We are 'old school' when it comes to customer service," Bruce explains. "When you call our stores during business hours, you will never get a recording. If you call one store and everyone is busy, the phones will forward to another store." And Bruce is not the kind of boss who sits in an ivory tower. "Everyone in our office can and will answer the phone, including me. If a customer calls and asks for the owner, the calls are sent right through to me without screening."
Those interactions have enabled Bruce to understand the multifaceted needs of his clients. "Interior design styles change quite often, but we believe in the individuality of our customers." That belief is shared by the entire staff.
"In one day, our decorators can visit customers in traditional, contemporary and transitional homes. We can design window fashions for any style."
Bruce feels his company has another advantage in that it serves targeted, local areas. He advises his clients "anything that needs to be custom measured, cut and fabricated should be purchased from a local specialist. We wouldn't recommend buying custom products from a big-box store or a national chain." He feels this is especially important when selecting custom window treatments. "The business is simply too complex, with too many variables. Some details are very subtle, but they're crucial to a proper installation." As the largest local specialist in this category, the company "can offer lower prices and better support," he says. "With 50 staff members, eight decorators and four installers, you never have to worry if one person is on vacation or out sick."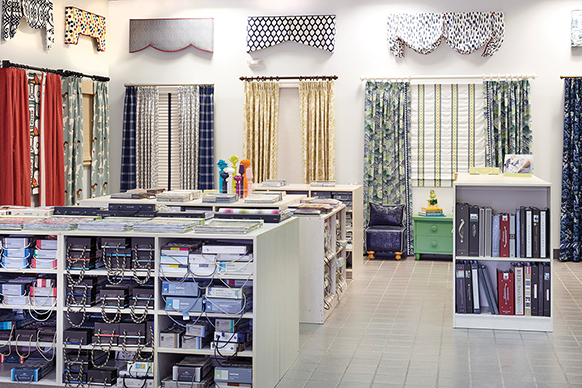 Bruce has a clear vision of the path the company will take in the coming years. While "there have been innovations in drapery and valance styles," he explains, "most of the changes in the industry have been related to shades and blinds. The innovations in motorization, energy efficiency and privacy have been phenomenal. The future is motorized shades." Currently, he says, "20% of every shade order involves motorization," but, he says, "it's only a matter of time before that number reaches 50%." The company has responded by selling battery-powered, plug-in and hardwire window shades that can be operated via remote, phone or tablet, on a schedule or by voice command. To keep up with innovations, "our decorators and installers are constantly attending training classes to stay up to date on the technological advances."
Created through the hard work of Bruce's grandparents and parents, the firm has grown and flourished through the tumult of the 20th century and into the 21st century. Bruce says it's gratifying to work in a family business. "It gives you a great sense of pride. You not only represent yourself, but you represent your entire family. I was taught very early on to treat everyone with respect: customers, employees and vendors. My customer service philosophy was handed down through the generations: our customers must be satisfied." That philosophy keeps Bruce optimistic about his goals for the company. He quips,
"…the future's so bright, I gotta sell shades."
---
Metropolitan Window Fashions provides services in both New Jersey and New York City.