From the June/July 2020 Issue
The AJ Royal
Writer Ren Miller
A simple but innovative pendant shone a light on an iconic hotel when it opened 60 years ago and will be refreshed and relaunched this fall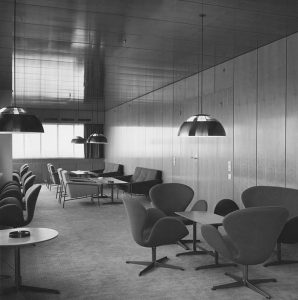 Every design style has at least one pivotal moment. For Danish modern design, one of those moments occurred 60 years ago with the opening of the SAS Royal Hotel in Copenhagen, Denmark, now the Radisson Collection Royal Hotel, Copenhagen. Arne Jacobsen designed the hotel —as well as most of its fittings and furnishings—for the Scandinavian Airlines System and, in the process, helped to set the standard for Danish modern style.
Jacobsen (1902-1971) was born, raised and educated as an architect in Copenhagen. He also ventured into the design of light fixtures, furniture, cutlery, door handles, sanitary fixtures, fabrics and wallpaper patterns. Among the minimalist furnishings he designed that became emblematic of the hotel are The Egg™ and The Swan™ chairs (see Design NJ, August/September 2019, page 28) and the AJ Royal light fixture, originally called the AJ Pendant.
The AJ Royal was actually designed by Jacobsen for Danish lighting manufacturer Louis Poulsen three years before the hotel opened. The company was born out of the Scandinavian design tradition where form follows function. The prominent placement of AJ Royal pendants above tables in the snack bar behind the atrium, in the lounge on the first floor and in the Panorama Lounge on the 21st floor created a permanent association with the hotel, which—with 22 floors—was Denmark's first high-rise building.
The hemispherical pendant is solid metal on the bottom to direct light downward but also has ridges on the top for a gentle upward light.
To mark the 60th anniversary of the hotel, Louis Poulsen will reintroduce the AJ Royal pendant this fall. The new AJ Royal will be available in the two original sizes (15.6- and 19.7-inch diameters) plus a smaller version (9.8-inch diameter), all with a black or white finish. The new, energy-saving LED versions will come with a frosted acrylic diffusor that offers a smoother, glare-free light that can be dimmed.
Today, the interior of the hotel looks very different from the garden-themed original. But visitors can still get a feeling for how the rooms originally looked by visiting Room 606, which has been restored to its original Jacobsen design from 1960. And anyone can get a piece of that look by choosing the AJ Royal light fixture when it becomes available this fall. LouisPoulsen.com.