November 12, 2019 — By Meg Fox
Takeaways from the NY Tabletop Market
A recent tour of the NY Tabletop Market this fall presented lots of food for thought: endless mix-and-match opportunities, an assortment of trending hues, tried-and-true color palettes and fresh interpretations of time-honored designs — all created for the way we live or dine today. Collections that continue to favor a more casual, personal, or pared-down approach to dining. Here's a taste of some of the newest styles and influences taking over tablescapes this season.
---
WHITE HOT
Clean, versatile, and highly Instagrammable, white dinnerware and accents utilizing different shapes, textures or subtle patterns were everywhere at market. So were timeless black and white combos.
Petal Lane™ white dinnerware makes a statement with its ruffled edges. www.lenox.com
NewMoon is defined through an asymmetrical crescent moon shape. www.villeroy-boch.com
Limoges porcelain candles enhance tableware collections from J.L. Coquet and Jaune de Chrome. www.jlcoquet.com
Spode reinterpreted Heritage, an iconic pattern, in classic black and white in honor of the company's 250th anniversary. www.spode.com
ENDURING DUOS
Blue and white, a popular color scheme steeped in history, was ever-present.
Greeting visitors in the lobby at 41 Madison was a show-stopping blue-and-white Chinoiserie-inspired tablescape by
NJ-based Mottahedeh. China, Mottahedeh; www.mottahedeh.com; permanent botanicals, www.newgrowthdesigns.com; silver, www.christofle.com; crystal glassware, www.williamyeowardcrystal.com; custom linens, www.pioneerlinens.com
Sophie Conran White Oak and Blue Oak Collections from Portmeirion www.portmeirion.com feature a refined hand-carved texture on organic shapes; a display warmed up by wood accents from Nambé. www.nambe.com
Luxury brand L'Objet used 24-carat gold to accent the white and deep blue jewel tones of their new Zen Collection. www.L-Objet.com
PREVALENCE OF PASTELS
Pale shades of blue, pink and green brightened tablescapes or took a sophisticated turn when paired with bolder, contrasting hues like black at Vista Alegre.
Serve tapas and appetizers on vibrant Naomi Bay™ glazed serveware from Lenox.  www.lenox.com
Sea-foam green is the newest color in Villeroy & Boch's successful It's My Love launch. Featuring a glazed interior and unglazed exterior, a modern two-tone look that is already trending for 2020, the company says. www.villeroy-boch.com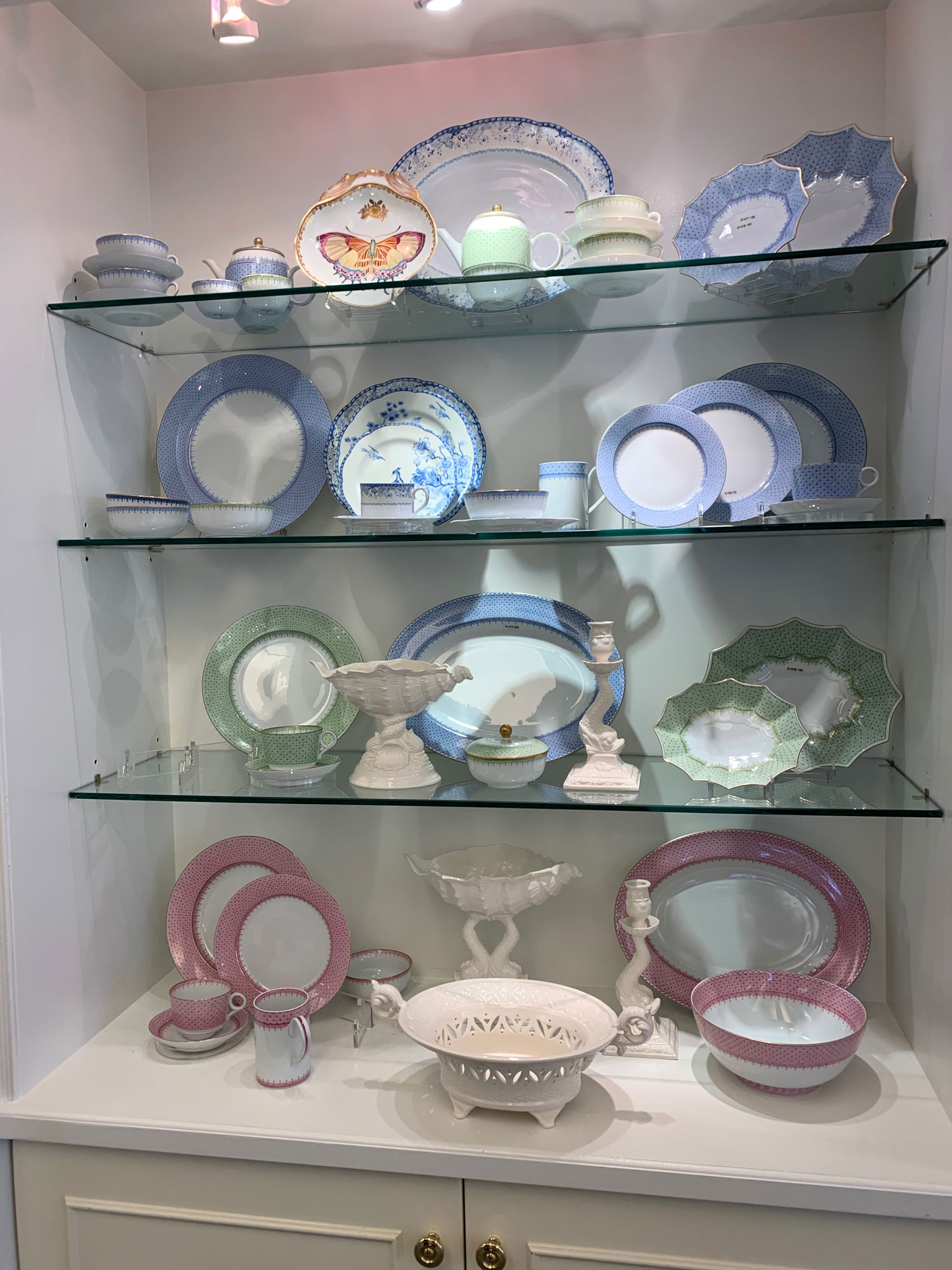 Mottahedeh's Lace pattern — in Apple Green, Cornflower or Pink — is designed to be mixed or matched. www.mottahedeh.com
Herbariae — new porcelain tableware by Christian Lacroix Maison and Vista Alegre — was created around two color themes: a black and white duo, and soft pastels in pink, yellow, celadon green and peacock blue.
NOD TO NATURE
Artisan details, natural motifs and organic shapes speak to consumer interest in connecting to our natural world.
The new Sprig & Vine Collection from Lenox is the perfect marriage of elegant vine details with watercolor brushstrokes. www.lenox.com
Shadow, a collection of enameled reactive stoneware from Medard de Noblat, has irregular trim and a subtle mineral quality. www.devinecorp.net
The Organics Collection from the "Like" sublabel of Villeroy & Boch takes inspiration from curved pebble shapes. www.villeroy-boch.com
STACKABLE STYLE
Innovations that make a statement, are multifunctional, or designed for smaller space living, energize the dining experience.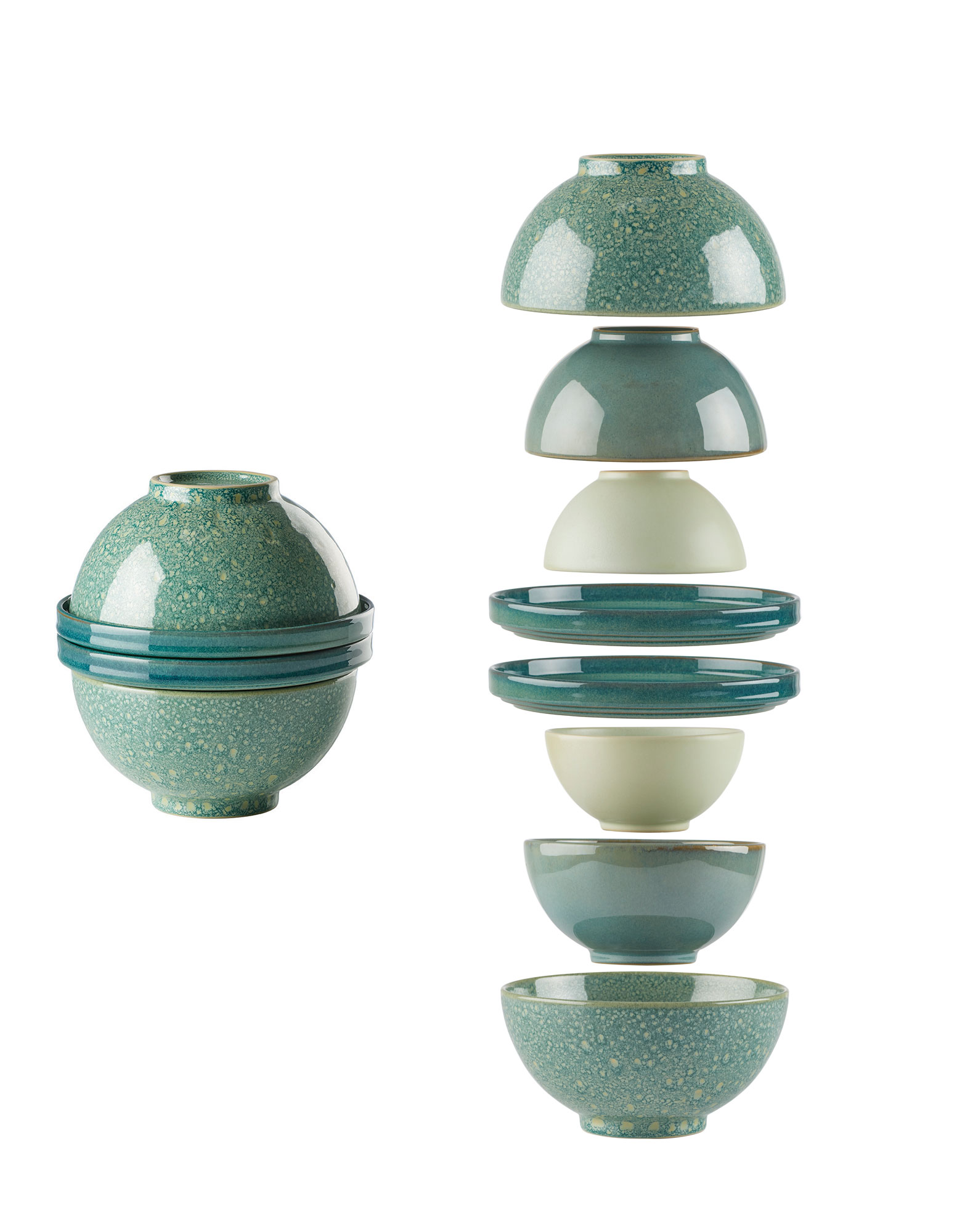 Luna by Lenox nests eight assorted bowls and plates into a sculptural set that can be put on display when not in use. www.lenox.com
Several bowls and plates come together for compact storage in Villeroy & Boch's Iconic dinnerware collection. The mix of coupe and flat designs provide consumers with flexibility for serving. www.villeroy-boch.com
The Pharos Collection from Vista Alegre, which comprises two mugs and a modular teapot, creates a statement-making sculpture when assembled with its black-and-white striped décor and accents of gold. (www.vistaalegre.com)
ECO-AWARE & ON THE GO
Products that satisfy our appetite for sustainable living.
On-trend glass straws from Villeroy & Boch appeal to consumers conscious about their plastic consumption.  www.villeroy-boch.com
Crafted of stainless steel in a nostalgic Vintage Cherry Dot™ pattern, Kate Spade's insulated food container keeps food and beverages hot or cold while on the go.  www.katespade.com
Reusable plates, drinkware and linens packed in a charming basket from Juliska elevates the outdoor picnic experience and reduces waste.  www.juliska.com