April 12, 2018 — By Design NJ
Sneak Peek: NJ Festival Orchestra Tour of Notable Homes
A few weeks ago, Design NJ editors were treated to a preview of some of the residences on the NJ Festival Orchestra Tour of Notable Homes in Westfield. It was a privilege to spend the day in this charming town, speaking to gracious homeowners who welcomed us into their beautifully designed homes. One of our favorite things about house tours like this is the chance to see, up close, the work of designers who brilliantly incorporate distinctive elements to dazzling effect.
We don't want to spoil it for you, but we can't bear to keep it all to ourselves! Here's a quick glimpse at what's in store on Saturday, May 12th!
---
Wild, wonderful wallpaper in varying hues of blue…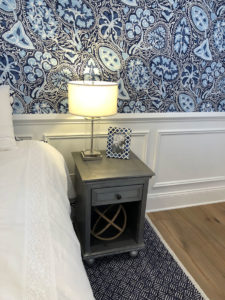 Unexpected textural touches
A mirror image to double the drama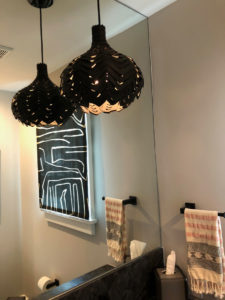 An embossed farm sink with simple, subtle style
Raw mineral cabinet pulls adding a pop of crystalline color
A lovely, loopy light fixture
…and finally, a family recipe passed down through the generations—because home décor should be meaningful as well as beautiful.
Design NJ is pleased to be the media sponsor for the tour. Be sure to get your tickets now! Go to NJ Festival Orchestra Tour of Notable Homes.