November 17, 2022 — By Meg Fox
Holiday Gifts for the Home 2022
Spread the holiday cheer this gift-giving season — or make your own self merry — with festive finds to liven up home and hearts
---
1: Wake up to Balsam Hill's Plush Braided Christmas Stockings hung by the chimney with care. Their soft, textured look — in red or white — adds a warm touch to your traditions. $79 each. Evergreen Saplings, set of three, $229; Farmhouse Wreath, 28 inches, $279; 34-inch, $379. BalsamHill.com.
---
2: "Letters" from Villeroy & Boch unites handwritten letters of the alphabet in striking black on a contrasting white premium porcelain cup. Perfect to give friends, neighbors or a favorite colleague as a small gift with a personal message. $50. Villeroy-Boch.com.
---
3: Stylish, compact and perfect for gifting, the new Retro Toaster from Big Chill is equipped with extra-wide slots for bagels; an easy-to-clean tray; a stamped, powder-coated metal body; and chrome trim. Available in five of the company's original retro colors: Beach Blue, Classic White, Cherry Red, Jadeite Green and Pink Lemonade. $175. BigChill.com.
---
4: The Winter Harbor Candle by Alla Costa in Bark was inspired by newly cut logs and cozy fires and has a subtle, warming scent. The fresh woodiness of cypress is met with the richness of tonka bean and a hint of smoke, making this the perfect candle to burn day and night during colder months. $65. Serena & Lily in Summit or SerenaAndLily.com.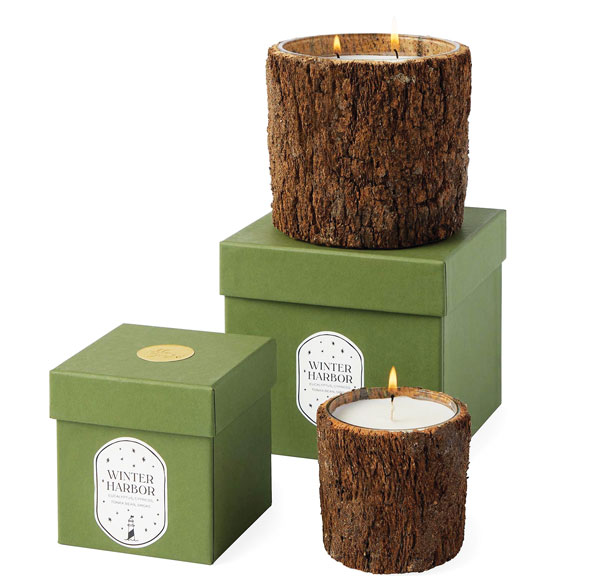 ---
5: Reed & Barton's new North Pole Bound™ Snowman Musical Snowglobe is braving the blizzard of a white, wintery scene to bring you gifts and goodies. Plays "We Wish You A Merry Christmas." $60. Macy's locations or ReedandBarton.com.
---
6: New Vienna throw blankets have an elegant, artisanal quality in a chenille jacquard trimmed in rich silk velvet. The cozy, single-layer blanket is reversible and can be dyed in any of Bella Notte's custom 18 shades. Shown in Jade, Fig and Midnight. $399. Between the Sheets in Ship Bottom, Creative Works Inc. in Livingston, Whimsicality in Spring Lake or BellaNotteLinens.com.
---
7: The chic and practical Mod iPad and Cookbook Holder from etúHome is a new countertop staple. Made of reclaimed wood and finished with a 100% plant-based, food-safe wax, the stand boasts a contrasting slat and a lipped shelf, which keeps your page steady for easy visibility while you cook. Or consider for use as a stylish desk accessory to keep important emails within sight or in a child's room to display favorite storybooks. $150. EtuHome.com.
---
8: The whimsical Snowman Cheese Board w/Top Hat Spreader in the shape of a snowman from Nambé is a perfect holiday entertaining piece or hostess gift. Easily serve antipasto during a festive gathering and, when not in use, slide the top hat-shaped spreader back into the snowman's head for safe keeping. $40. Nambe.com.
---
9: Kate Spade celebrates the holiday giving spirit with a new red and green stripe holiday cookie jar from the brand's Merry & Bright™ Collection. Open the lid that says "One for them, Two for you" by using the green ornament handle. $60. KateSpade.com.
---
10: Taking cues from the Bauhaus movement, the Denver Candleholders from Arteriors are both bold and elegant. Abstract geometry takes shape in the sleek, antiqued brass steel column, which effortlessly layers into a stacked base of white and black figured marble. Each holds a standard taper candle. Set of two, $415. ArteriorsHome.com.
---
11: Add the Holly & Sprig Salt & Pepper Shakers from Julia Knight to your holiday table for the perfect attention to detail. From the luxurious richness of enamel infused with crushed mother of pearl to the signature thumbprint swirl, each piece is truly one-of-a-kind and will surely become a family heirloom. $75. JuliaKnightCollection.com.
---
12: The French Perle Berry Collection from Lenox makes merry with artisanal holly motifs in a hand-painted style. Shown is the "Peace & Joy" Platter crafted with scalloped edges on a snowy white base. $200. Macy's locations or Lenox.com.
---
13: This Sara Miller London Portmeirion Frosted Pines Tea For One is a modern expression of winter with festive deer prancing over frosted tree tops in a whimsical color palette of dusty pink, teal, sky blue and navy—a refreshing change from traditional holiday colors—and can be used all winter. The tea pot is stacked perfectly above the teacup in a seamless design. $56.99. Portmeirion.com.
---
14: Inspired by big, bold cocktail rings, these Globo Bookends from Jonathan Adler feature L-shaped bases supporting luminous globes of blue or pink acrylic. Use them together to keep your tomes from toppling. $425. JonathanAdler.com.
---
15: The circular Ornella Brass Box from Aerin has a subtly tapered base and overhanging lid enhanced with a domed lapis gemstone handle. Lined in suede, the box adds interest wherever it is placed and has a multitude of uses, from holding pieces of jewelry on a vanity to keeping items organized on a desk. $475. A. Home in Summit or Aerin.com.
---
16: Crafted from Italian Carrera marble and brass- or nickel-plated metal, the Coluna Menorah from Anna New York is for people who love modern design and tradition. It was designed to bring light and joy to the holiday and be passed from generation to generation. Every detail was considered, including precise metal cups that fit Chanukkah candles perfectly. Nickel, $265, brass, $295. AnnaNewYork.com.
---
17: Haand's new Cirrus Vase doubles as a carafe in a unique mix of blue and white clay called Cloudware. Designed to echo historic Wedgwood Jasperware and blue-streaked skies, no two pieces are alike. $95 each. Haand.US.
---
18: Make your gift feel even more special and unique with Waterford's collection of Crystal Ornaments. Add your loved one's initials, remember an important date or milestone, or add a personalized message with the company's crystal engraving service. Ornaments are presented in a signature Waterford box and a cloth storage bag to keep the crystal memento safe for many years to come. Circle Ornament, Baby Boot and Heart Ornament, $80 each. Waterford.com.
We hope you will also enjoy our gift guides for children and for pets.