November 22, 2022 — By Marirose Krall
10 Gifts for the Children on Your List
We've rounded up some practical, whimsical and entertaining holiday gift selections to delight the younger set and the grownups who love them.
---
1: An un-bear-ably sweet storage solution. The Bloomingville Eman Basket from Sweetpea & Willow is handmade from water hyacinth and features a sleepy bear face.
---
2: Age-appropriate dinnerware. Avanchy Pre-K Plus Collections include organic bamboo baby bowls, toddler plates, matching spoons and training forks. BergdorfGoodman.com.
---
3: A practice kitchen for a future chef. La Fiamma Grand kitchen from Tenderleaf Toys features a sink, cooker and pizza oven.
---
4: A beautiful way to display baby photos. Animal Frames from Michael Aram are available in silver, blue or pink. (Find them in New Jersey at the Michael Aram seasonal pop-up store at the Mall at Short Hills.)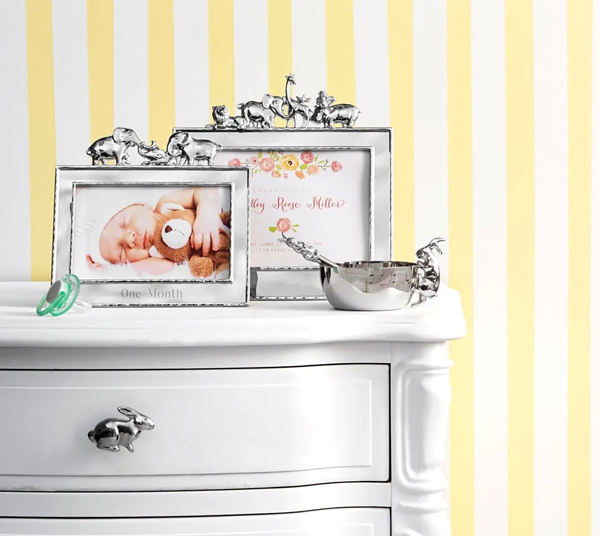 ---
5: A high-rise surprise. Le Toy Van's five-floor Palace Doll House is ethically made from sustainable wood. BergdorfGoodman.com.
---
6: A cozy covering. Oilo Studio's Cottontail Cuddle Blanket is snuggly plush on one side with soft 100% Turkish cotton knit jersey on the other. (Find it in New Jersey at Bambi Baby in Middletown.)
---
7: Inspirational art for a budding designer. Dream Home: Modern Farmhouse: An Interior Design Coloring Book by Chellie Carroll features 55 illustrations featuring the best of modern farmhouse style. (Find it in New Jersey at Barnes & Noble locations.)
---
8: A backyard hideaway. The Road Trip Camper from Wonder & Wise by Asweets is suitable for indoor or outdoor use. (Find it at Bloomingdale's locations in New Jersey or BergdorfGoodman.com.)
---
9: A lunar display case. The Moon Shaped Shelf from Pottery Barn Kids is a playful way to show off baby's treasures.
---
10: A sophisticated puzzle for an architect-to-be. The Frank Lloyd Wright Cactus Flowers Puzzle from Room & Board has 1,000 pieces stamped with foil to bring an added element of beauty and texture.
We hope you will also enjoy our gift guides for the home and for pets.